Review of the Inception exhibition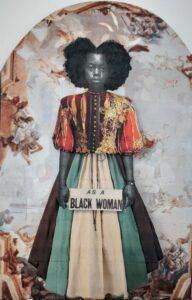 The recent Inception exhibition at CreativSpace was jointly organized by three young artists, Shasha Porter, Mikheal Deans, and Malcolm Lindsay. Porter and Deans are recent graduates of the Edna Manley College, in Painting and Visual Communication respectively, while Lindsay is self-taught. The creation of exhibition opportunities for themselves and other young and emerging artists is, as the organizers have asserted, a major consideration. Shasha Porter has also indicated that she is considering pursuing curating as a professional venture, which would certainly be a welcome addition to the small pool of professionals in that field here in Jamaica.
The inaugural Inception exhibition featured work by the organizers only, but this year's edition, which was organized around the broad themes of "power, perception and evolution", featured nine artists and also included Cerena Parkinson, Tishana Fischer, Shediene Fletcher, Monique Gilpin, Ammoy Smith, Jeff Menzies. Most are graduates of the Edna Manley College, and some were schoolmates of the organizers, while Menzies was a lecturer in the Sculpture Department. Some, such as Gilpin, Menzies and Fletcher already have a fairly well-established exhibition record, but for the others, the aptly titled Inception was their first exhibition.
While their work is of undeniable merit, it was not quite clear how Menzies' musical instruments and Smith's large textile wall-hanging fit in with the exhibition theme, and the dominant aesthetic in the rest of the exhibition and their inclusion seemed rather random. The rest of the exhibition was, however, remarkably cohesive, if somewhat uneven in the quality of execution, and focused on figurative image-making, in painting, photography, and collage. Perhaps there are good grounds after all for the National Gallery's The Face of Us exhibition, as most of the works in Inception qualified as portraits and addressed issues of Black self-hood in the context of Jamaican history and contemporary society and culture. This has been a dominant pursuit for some time in Jamaica's contemporary art, as is also evident in the figurative paintings of the likes of Phillip Thomas, Greg Bailey and Alicia Brown.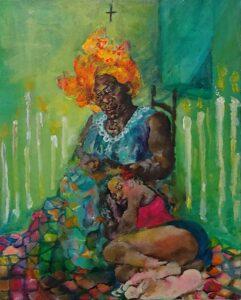 A number of works stood out in Inception. One was Tishana Fisher's Untitled painting collage, a portrait of a girl in "traditional" dress standing with a sign that reads "AS A BLACK WOMAN", presents a compelling interrogation of the complexities of Black girlhood, in which vulnerability and strength appear to be conjoined. Fisher's work, in general, addresses issues of family, female identity and the implications of absentee fathers, which is a major social problem in Jamaica that has significant emotional consequences, and she uses painterly formats, such as the circular tondo that was popular in the Italian renaissance, that give her work a "historicized" and even sanctified quality that transcends the personal narrative.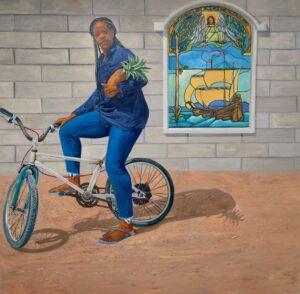 Monique Gilpin's three lightboxes represent a welcome new direction in her photo-based work, and represents the human body in an abstracted, shrouded manner, now drained of colour, that, perhaps inadvertently, brings to mind the stone fragments of the Greek Parthenon sculptures. Gilpin, too, is interested in the contradictions of fragility and strength, and there are various autobiographical allusions to traumas, emotional states and sensory experiences that have broader significance, as the sort of experiences and issues of identity and the (Black) body she alludes to are shared by many.
Perhaps the most spectacular works in the exhibition are the two large paintings by Malcolm Lindsay, If the Sky is Gray, then I am BLACK and Epiphany of Power, Disruption and Evolution. One is a portrait of a Black family in front of a grisaille wall with portraits of various Black icons, from Marcus Garvey to Ruby Bridges. The second is a portrait of a jeans-clad, sceptical-looking Black woman, casually seated on a bicycle and with a pineapple cradled in her arm like a baby, against the background of a stone wall with an image (possibly a painting or a stained glass) that seems to represent Columbus' arrival in the Americas. In both works, history and contemporaneity, general and individual identities, are brought into dialogue in ways that are open to multiple tantalizing interpretations.
While he has not had the rigorous academic training that is usually required to be able to produce such realist paintings, Lindsay is a remarkable natural talent as a realist painter. There are some technical problems in his paintings, such as figures that do not seem to dwell in the same space, and shadows that do not quite fit the object they are associated with. The paint application is also rather flat and would benefit from more dimensionality. While he could work on these issues, which are relatively easy to resolve, they also add an inadvertent surreal tension to his compositions which adds to the mesmerizing quality of his images and the narratives they represent.
Lindsay's work fits into a distinctive trend of contemporary figurative painting in Jamaica that addresses similar issues of Black identity and history, of which Phillip Thomas, Greg Bailey, Kimani Beckford, and Alicia Brown are well-established and critically acclaimed exponents. There is, already, the risk that this will devolve into belabouring the same social and historical themes endlessly, with increasingly routinized responses in the imagery and representational styles used. While there are hints of this problem in Lindsay's work, he holds his own quite well in this context, and has a distinctive artistic voice of his own. It will be interesting to see how his work evolves.
Inception was also well-mounted, with just a few minor technical mishaps, such as wall texts that would have benefited from better editing and proofing, while the main exhibition sign had peeled off the wall because of the heat, leaving a large empty wall segment in the space (CreativSpace has no climate control). Some of the sales prices also seemed unrealistically high and I can only hope that sales were made. But, all in all, Inception made a strong statement, in terms of the general quality and topicality of the work as well as the curation, which is already turning what started as a fairly modest effort to claim to space and visibility, into one to be reckoned with in the current context. I look forward to future iterations.
 Inception closed on 28 July.
Dr Veerle Poupeye is an art historian specialized in art from the Caribbean. She works as an independent curator, writer, researcher, and cultural consultant. The second, revised and expanded edition of her best-known book "Caribbean Art" was recently published in the World of Art series of Thames and Hudson. Her personal blog can be found at veerlepoupeye.com.