King David: The man with de hammer
He is known as The Man with the Hammer. He is also known for his creative calypso genre of kaiso with its commentary on local and topical events of political, and social import. His tone is one of allusion, mockery and double entendre. This living genius exploded onto the musical and social landscape of Trinidad and Tobago in the 1970s and over the decades it has become evident that his talent and impact have no limit. This master of the art form is a proud son of Trinidad and Tobago and a giant of the Caribbean and Pan-African Community. His big international hit in 1986, "The Hammer" is unforgettable because it introduced the world to the inventor of a new musical instrument known as the steelpan.
David Rudder is most notably known for his pan-Caribbean and African consciousness. In many of his songs, he uplifts the historical resilience of the oppressed in society, particularly people of African heritage. He tells these stories of history, experience, music and culture through poetry, literature and art and does so melodiously. Early in his career, he was the backup singer in the calypso tent run by Lord Kitchener, who is rightfully revered as "the Grandmaster". He went on, in 1986, to win three major titles, Young King, Calypso Monarch and Road March,  all in the same year which enabled him to be the very first artiste to capture the three major competition titles in the same year. He would later gain more respect in the music industry when his compositions were used by the steel band that won the Panorama competition also in that year.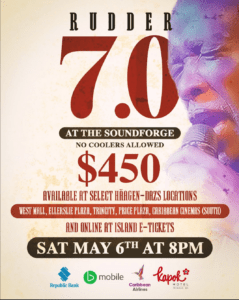 Calypso is described as an art form that not only transcends but magnifies the nation's restless political, social, religious and cultural character. It emerged during a particular historical era in Trinidad and Tobago and was often considered privy to a certain class of people.
From the very first note that rolls off his lips, Rudder's songs capture the soul and never lets it go. His songs unite people near and far as he implores us to appreciate our neighbors and to empathize with them in their times of struggle. His lyrics call attention to the plight of the peasant and show the "power we wield when we stand up and send a message". When you hear his songs, it's almost like you are preparing for battle to continuously elevate the Caribbean consciousness and harmonize with those you hate. When you hear his music, you feel the peace at home away from home – "soca music, take me back to meh island".
"Rudder" as he is known by many, is the very definition of a cultural icon. A name synonymous with Caribbean pride: pride in the heritage, diversity and beauty of the peoples inhabiting these countries of our region. He always credits his upbringing in Belmont Trinidad for his musical content. According to him, he was baptized three times: as a Baptist by his grandmother, as an Anglican by his mother and as a Catholic in school and thus, he is amiably called Reverend David Rudder by many. He lived in proximity to a pan yard and a Shango (African religion) yard, elements that would be at the foundation of his work. The musical vibrations of the drums and instruments provided the tempo and movement of the music that he is well known for. His life conveys the theme, devastation does not mean destination.
In 1992, Rudder was awarded the Trinidad and Tobago Humming Bird Silver Medal in recognition of his contribution to uplift the roots of calypsonian culture. In 1996, he was appointed as a Goodwill Ambassador to the United Nations Development Programme. He never fails to promote Trinidad and Tobago and the Caribbean to the wider world. He was also one of the pioneers of soca music, which is a prominent feature of carnivals within our region and far beyond. In 2015, he was awarded a Doctor of Letters honoris causa by The University of the West Indies, for his outstanding works and contributions to society.
King David is recognized for his honorable and outstanding music that continues to light our hearts and uplift the minds of untold millions across the world.
Subrina Hall Azih is a Trinidadian educator residing in New York.