The Future Files: Brad Pinnock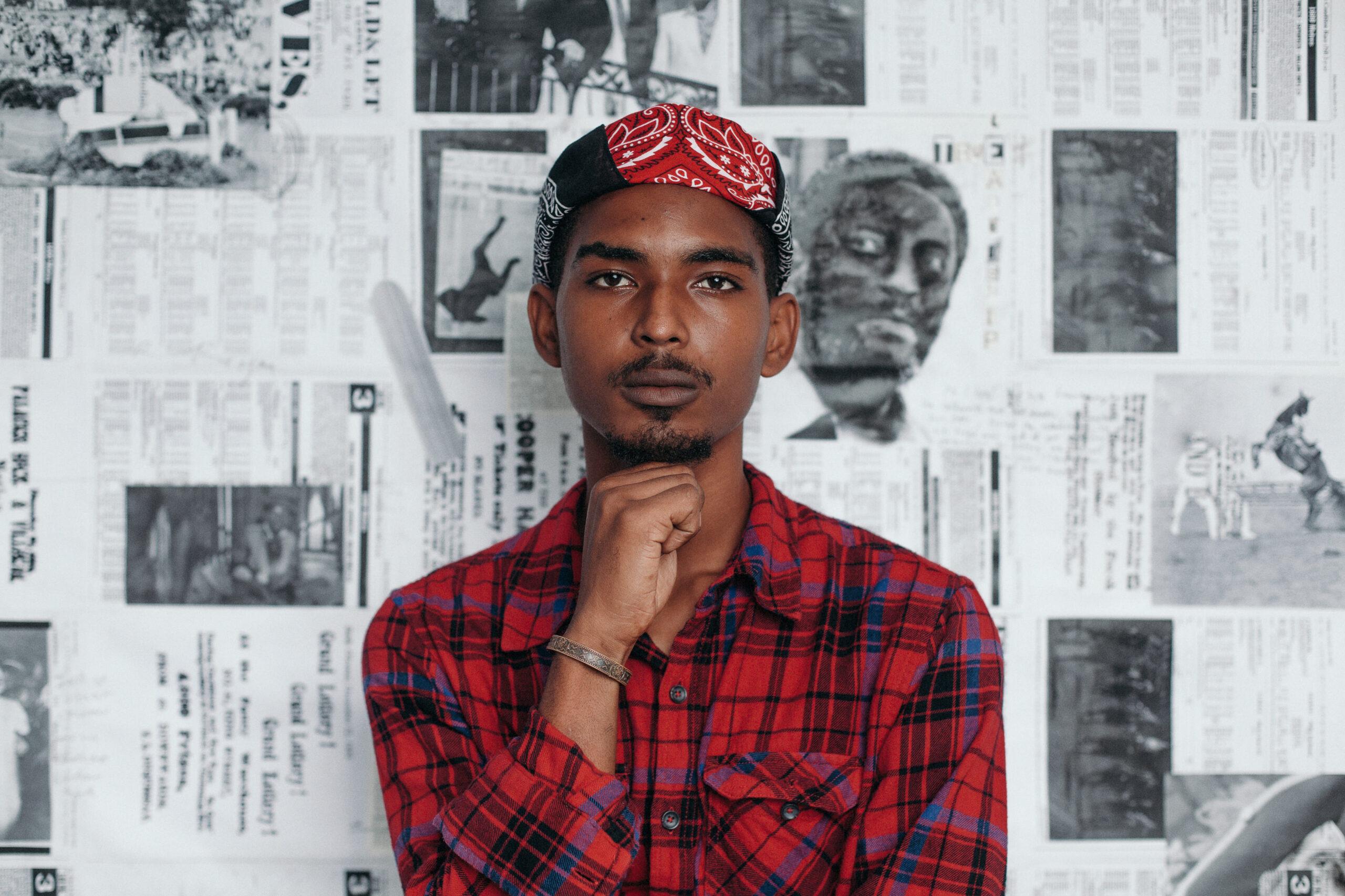 About the Future Files
This new series puts the spotlight on the exciting young artists who have emerged in Jamaica in recent years, many of them graduates of the Edna Manley College of the Visual and Performing Arts. The features will be based on studio visits (virtual and actual) and interviews and will offer insights into their work and its context. They also delve into their concerns, aspirations and needs as emerging artists.
Brad Pinnock
Brad Pinnock was born in Kingston in 1998 and graduated from the Edna Manley College of the Visual and Performing Arts (Edna, EMC) in 2021 with a BFA in Painting. His exhibitions include his first solo show Teacher, Nuh Teach Me Nuh Nonsense (2022) at New Local Space (NLS), and the group exhibitions And I Resumed The Struggle (2021), Olympia Gallery, and INSITU II (2021), Edna Manley College of the Visual and Performing Arts, all in Kingston, Jamaica. Pinnock, typically, produces large, immersive installations, some of them in outdoor settings, that combine fabricated elements, transformed found objects, and collaged elements, and interact with the architectural setting. In these works, he delves into some of the key existential questions in contemporary life, combining autobiographic reflections and broader considerations. More specifically, he talks about the predicaments faced by postcolonial societies, and particularly the issue of indoctrination, and the insidious and self-defeating ways in which this has worked its way into the psyches and cultural practices of the formerly colonized.
Here are some excerpts of the extended interviews we had on 29 and 30 April 2023.
VP: Why did you choose to become an artist?
BP: My first real introduction to doing art, and thinking about taking up art as a career was really at Edna. Before Edna, I didn't really do much art beyond what I had to do at school, although I had done some graphic design. I had a preconceived notion, coming into Edna, that being an artist, and having the abilities the artists need, was something innate. I thought it was a talent that only a "chosen few" were born to, and not something that could be taught. Originally, I had come to Edna to study graphic design. Learning to draw and paint, which was a requirement, was a deterrent at first. Going through that process, it opened my eyes, especially after realizing many of the other students who I thought were experts could not draw as well.  They were learning like myself.  I soon became interested in art not only as means of understanding self but also as an intellectual tool in contemplating epistemic ideas and its power in shaping the world around.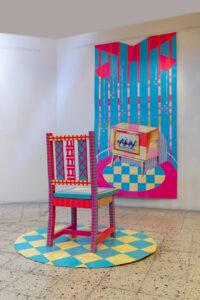 So, you did not see graphic design as art initially? Has that changed?
No, I do see it as a form of art. But how it is taught at Edna, it is not approached or encouraged as an artistic practice. It is taught as a commercial, client-oriented practice, and not as something that is used to speak about other issues. But graphic design definitely can be an artistic medium, and I still fall back on some graphic design skills, such as photo-editing and digital collage, to produce my work.
Several well-known contemporary Jamaican artists have come through the Visual Communication (Graphic Design) Department, such as Leasho Johnson and Matthew McCarthy, and earlier on, Eugene Hyde. Why do you think that continues to happen?
I think maybe those artists feel that they may have more to say than what is possible in the graphic design industry. But the majority go in corporate directions.
What was the experience of being a student at the EMC like? How did studying there shape your artistic outlook?
Edna was the genesis of my artistic career, and my thinking about art. It is also a place where I came to know myself more, and came to learn about myself, through the studio practice, the community, and the critiques. It is a privileged experience to go there. It may not have the best infrastructure and so forth, but I think it is one of the best tertiary institutions in the country. The level of intellectual thought that is happening there, particularly in the Visual Arts Department, I don't see that happening anywhere else in the country.
Edna really taught me how to think, even more so than the technical aspects of my work, it taught me how to think about my artistic practice. For instance, the level of questions that you get asked when consulting with a lecturer, and the community around me, all that was very important to me. The same ideas and principles continue to guide my practice today, even though I am no longer part of that community and work independently, so Edna has really been influential for me.
As a past lecturer and as one who has done research on the history of the College and its antecedents, it always seems to me that the strongest artists come out of those years when you have strong cohorts of students, when there is a strong sense of community. How did your fellow students influence your trajectory?
That was very important. There was a lot of friendly competition and encouragement, with fellow students. We pushed each other and created more ambitious work as a result. Having a community there and discussing and thinking about the work was, I think, very beneficial for us.
Because of the pandemic, and the curfews, my group got to stay over at night at the College probably more than any other group. We were practically living in the studios, and with our work, so we spent a lot of time together, almost like a family.
Your final year project was one of the most ambitious yet to be shown at the EMC, in terms of scope, size and conceptual depth. Tell us about this work.
My final year project, The Engineering of Consent: A Democratic Paradox (2021), sprung from my interest in the different sides of human nature, the emotional side and the thinking side. I noticed in myself that one side was inclined to move towards progress and achieving my goals, and one side which was slacking off at points. I used the metaphor of the horse and rider to speak about the emotional and thinking sides of human nature: looking at the horse as the metaphor for the powerful emotions and passions that can drive us, and the rider as the thinking one, who guides the horse in its desired direction. The horse is, however, more powerful than the rider, similar to emotions, which can be more powerful than our thinking side. We tend to be led by our emotions and desires, many times, and this can lead us to be easily manipulated. The gambling industry is one area of the society where this is quite prevalent. Using various materials from local betting shops I was able to speak about instant gratification and the politics of Jamaica. The work itself was an interdisciplinary installation which drew upon different languages, such as architecture, sculpture, painting, and the idea of the theatrical.
The second, concluding part of this interview will be published next week.
Dr Veerle Poupeye is an art historian specialized in art from the Caribbean. She works as an independent curator, writer, researcher, and cultural consultant. The second, revised and expanded edition of her best-known book "Caribbean Art" was recently published in the World of Art series of Thames and Hudson. Her personal blog can be found at veerlepoupeye.com.